1. Choose a sunscreen that says "broad spectrum"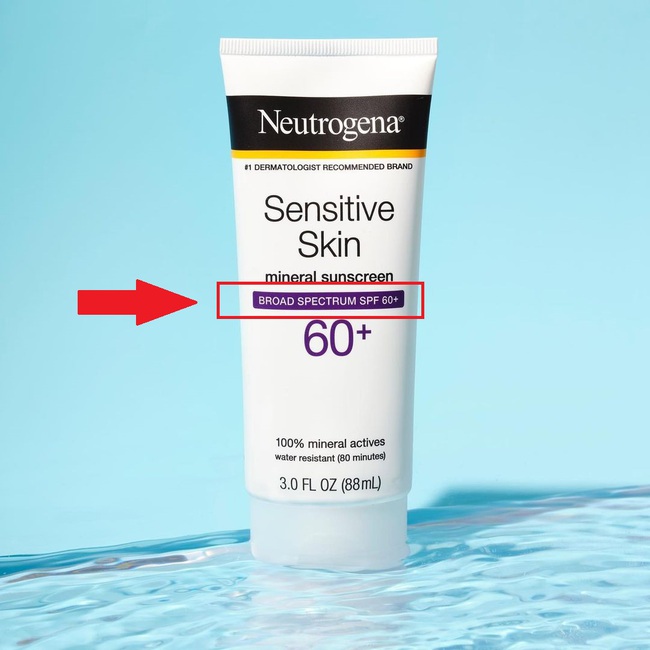 When shopping for a sunscreen, the first thing you need to research carefully is the product's packaging. If it is labeled "broad spectrum", the product can protect your skin from both UVA and UVB rays. All sunscreens are resistant to UVB rays – the main cause of sunburns and skin cancer. However, UVA rays also contribute to cancer, while also causing premature aging. And your skin needs to be protected from both UVA and UVB rays to both stay healthy and keep skin young, smooth and bright.
Only products that have passed certain tests will be labeled "broad spectrum". Products without these notes will often have a warning that the product only protects your skin from sunburn, not including skin cancer and aging.
2. Choose a sunscreen with SPF 30 or higher
The sunscreen you choose should have a minimum rating of SPF 30. The SPF number represents the sunscreen's ability to protect the skin from UVB rays. A higher SPF number means increased skin protection, but when you choose a high sun protection factor (around SPF 30 or higher) there won't be much of a difference. Specifically, SPF 15 will block about 93% of UVB rays while SPF 30 will block 97%. But if you choose SPF 50, the ability to block UVB rays is only a little bit better at 98%, while SPF 100 is 99%.
No sunscreen product can completely protect your skin, but at least choose one with SPF 30 or higher. The FDA requires any sunscreen with an SPF of less than 15 to warn users that it only prevents sunburn, is not capable of minimizing skin cancer and anti-aging.
3. Note about the water resistance of the sunscreen
"Water resistant" doesn't mean water resistant. And manufacturers are also not allowed to advertise that their products are sweat / water resistant as no sunscreen can.
If a product has a water resistance rating, the sunscreen should specifically identify protecting the skin for a period of 40 minutes or 80 minutes while you swim or sweat. And for the best protection, you need to reapply sunscreen every two hours, or even reapply after a shorter amount of time if you're swimming or sweating a lot. The sunscreen will wash off your skin if you use a towel to wipe your face. So, reapplying sunscreen is very necessary.